Carrier OPTICLEAN – Fighting COVID-19
Carrier remains at the cutting edge of innovation and the fight against COVID-19 with the launch of the Carrier OptiClean™ negative air machine. This portable machine, made its debut on April 16, is being used to help slow the spread of the airborne virus in hospital isolation rooms in some of America's most affected cities because of the strain this novel virus has put on medical facilities. 
Most hospitals already have an air filtration system but those systems might not be available in certain areas of the hospital. Carrier's OptiClean™ is portable so it can be brought into a room that might not be receiving the same filtrated air as other parts of a hospital or care facility.  According to Carrier's official press release, the OptiClean™ was trialed at the University of Rochester Medical Center; according to Mark Schwartz, Director of Facilities for the Center, "The Carrier negative air machine fills a significant need in these critical situations when it is necessary to create a negative offset in temporary facilities." 
Carrier began development on the OptiClean™ in March in an effort to flatten the coronavirus curve. "During this global pandemic, it is essential that companies like Carrier do what we can to help stem the spread of the disease and protect caregivers, hospital workers, and patients," said Carrier President & CEO Dave Gitlin. 
Since the OptiClean™ is portable, potential uses include homes, businesses, and assisted living facilities. If you are interested in learning more about the Carrier OptiClean™ or other air purification systems, please call or email Lonestar Services to speak to one of our Carrier experts or receive technical documentation for the OptiClean™ 
####
99.97% efficient, long-life HEPA filter removes particles as small as 0.3 microns
Standard MERV 7 or higher pre-filter
Minimum 500 CFM
Meets or exceeds the ASHRAE Standard 170: Ventilation of Health Care Facilities
HEPA filter rack and sealing design meet air leakage requirement
Vertical design for smaller footprint compared to many competitors
Portable and adaptable to nearly any appropriately-sized location
Heavy-duty, lockable casters for easy transport
Red filter indicator light alerts user when it's time to replace a filter
Green on/off switch illuminates when the unit is on and operating
Ten-foot long power cord with strain relief
Exhaust transition to standard 10-inch round duct included
Galvanized steel, pre-painted cabinet is fully insulated
115V
UL® listed
Cabinet dimensions: 17-5/8" W x 22-1/16" D x 49-5/8" H
One-year limited warranty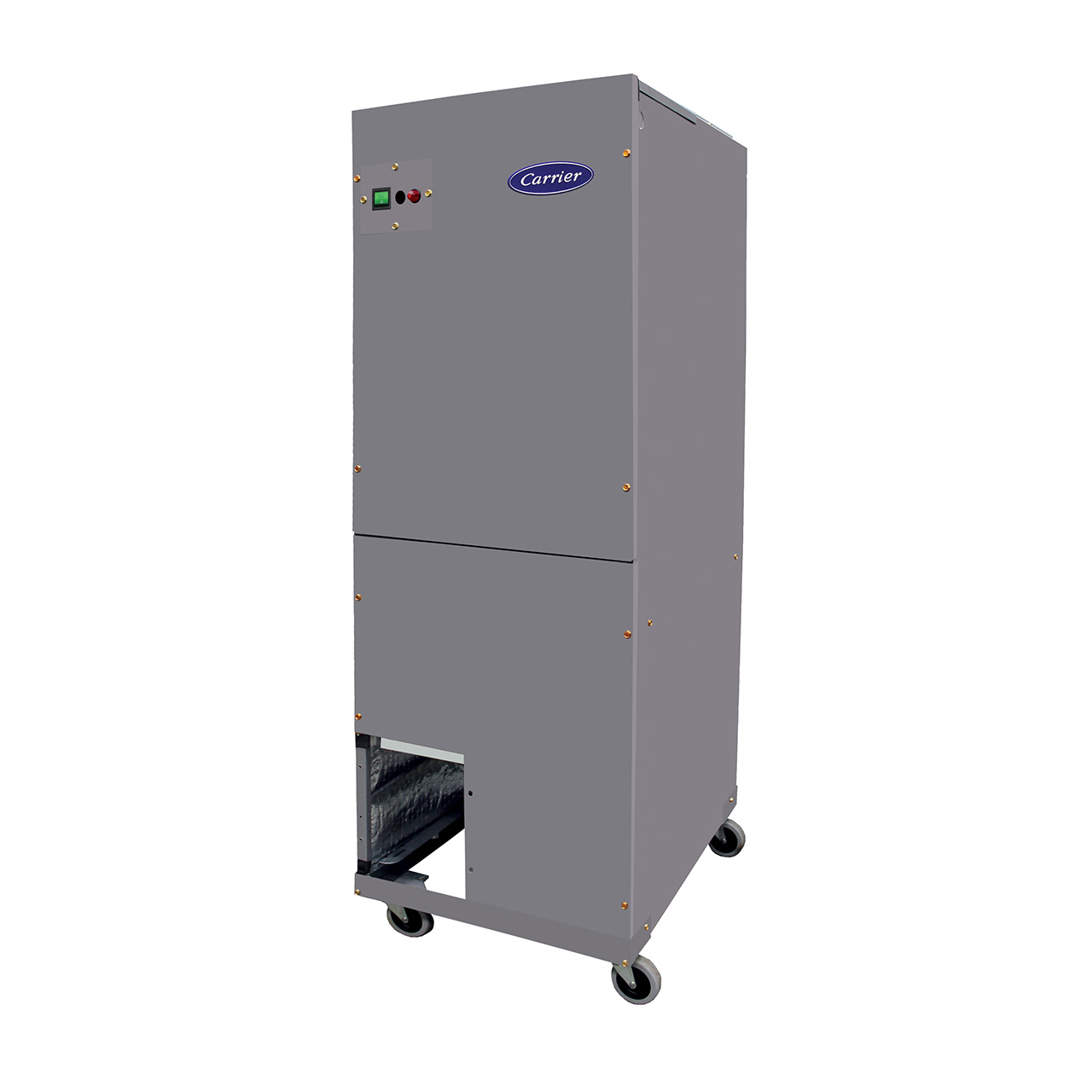 April 27, 2020
2021/04/15